Library
---
Introduction | Mission statement | Library rules
"Those books lying on the shelves of the library are not ready just drafts and have no meaning. To get meaning, reader, you are needed. No matter how ready they are there are only hints, references, scrawl in them which came to alive in another soul. Books are created by two people: the author, who wrote it, and the reader, who read it".
/Kosztolányi Dezső/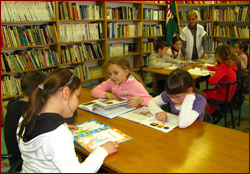 Our library is on the first stage ("new wing"), in room No 123. Its territory is 58.2 m2; there are 32 seats and 4 computers to use. Only our students and teachers can use the library which is free. The number of holdings is 12,000 pieces. We use Siren program to categorize items.
Aim of the library:
to help teachers to teach and educate
to assure and develop the level of professional skills with the help of technical books, publications, newspapers
to help with widening the general knowledge of library users (students, teachers, technical employees)
to transmit new knowledge with the help of enriched holdings
Basic activities:
to help to achieve what is fixed in the regulation and the pedagogic program of our school
to assure the necessary information, knowledge resources (specialized and general books, journals, other documents) for teachers and students in the education
to develop its holdings, to explore, to keep, to care them and to make them available including lending long-term books
to present regular, continuous information of the new documents and services of the library
Library rules:
Teachers, students and technical workers can use it freely.
Open between 15 September and 1 June at office hours.
During school holidays it is closed.
Services:
lending,
using holdings locally (encyclopaedias, newspapers)
tdealing with long-term books
holding lessons, group activities
collecting materials in certain subject
using PC, CD-ROM, DVD, VHS
Lending rules:
All registered users are allowed to borrow.
Taking out a book without the permission of the librarian is prohibited.
Lendable holdings can be chosen from the shelves.
One user is allowed to borrow not more than three books at a time.
Lending time is 14 days, but lengthening can be asked for in special cases.
Books have to be given back to the librarian.
Lost items have to be paid at current value or replaced by an appropriate item proposed by the librarian.
Daily newspapers, periodicals, international youth papers, dictionaries, encyclopaedias cannot be lent.
Other rules:
Speaking loudly and disturbing others' work is prohibited.
Bags, food and drinks mustn't be brought into the library.
PC can be used with the permission and the control of the librarian.
Using home-theatre system in groups is possible under teachers' control.